I arrived at 6.30am to a cold, 14°C, and rainy Sydney (when I left Germany it was 26°C) and was met at the airport by the lovely Janet Roden and her husband David. Janet is the Professional Officer
 for New South Wales Nurses and Midwives' Association, 
Australian Nursing and Midwifery Federation. I was fortunate to meet Janet in Plymouth this year and she introduced me to several of the people I'm going to meet in Sydney – Stacey from Western Sydney University and Amanda from the Australian Catholic University.
Sydney is a multicultural city with a population of approximately 5 million people.  All day I tried very hard to stay awake and followed all the advice I'd been given to fight jet lag. Sadly to no avail :(. One of the suggestions for combating jet lag, apart from taking melatonin, is to go out into the daylight so I decided it would be a good time to take in some of the local sights.
My first venture was to Sydney's Fish Market. It's absolutely huge with lots of shops selling every type of fish available – fresh or cooked, dead or alive. The market hall was very busy, bustling with people and I found it difficult to walk through. There are also plenty of restaurants, whether you want fish and chips or sushi, you can find it there.
My next visit was to Darling Harbour, including Cockle Bay. This old train shed harbour has been redeveloped over the years, in fact they're still building, and has been transformed into the beautiful Chinese Garden of Friendship and lots of places to eat and drink. It is a fantastic place to walk through or sit and watch the world go by.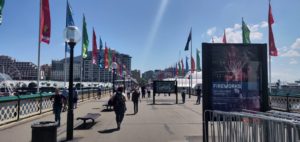 I walked across Pyrmont Bridge, one of the world's oldest surviving electrically operated swing span bridges. The bridge was built over 150 years ago to connect the growing city but also allow ships to enter the busy harbour.
The International Convention Centre Sydney is also situated at Darling Harbour, as is the maritime museum. But my favourite feature at Darling Harbour is the Welcome Wall. This wall boasts about 7,000 names of people who've arrived in Australia over the past 200 years or so. It was lovely to read about their feelings on arrival and their first impressions were when they landed. Some really moving stories!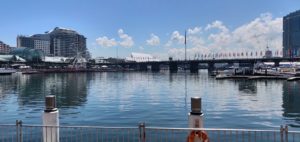 I didn't really get the impression on my first few days that sustainability plays a big role in everyday life. Take away food and drinks at the fish market were all in plastic with plastic straws and coffee-to-go seems to be as popular here as everywhere else in the world. Everyone I saw coming from and the local supermarket was carrying their shopping in plastic bags.
However, as I said these are first impressions, let's wait and see.
Next Stop – Western Sydney University