I've been lucky to have some free time in Sydney and have used this to do some sight seeing. Travelling around Sydney is very easy with the Opal card, which is very similar to London's Oyster card. It can be used on the trains, the metro, buses and ferries. However, unless it was really far out of the centre of town, I did most of my sightseeing on foot.
One of the first places I visited was Sydney Opera House.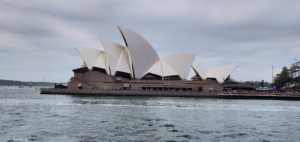 Here I booked a tour, which takes you into the various theatres and the small and large concert halls. It also gives you a very good history of the area, the Danish architect Jørn Utzon, who in 1957 won the international competition to design the opera house at Sydney's Bennelong Point, and the building of the opera house.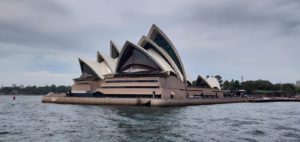 The opera house is not only home to classical concerts; on our tour we experienced the sound check from 'Foreigner' who were playing that evening.
There are lots of places to buy food and drink and souvenirs. The seagulls are out in force there and if you're not careful they'll snap your lunch right out of your hand!
At one of the restaurants I was really happy to find that everything in use was recyclable; the plates, napkins and cutlery were made out of Bamboo and the drinking glasses were made out of a plant substance.
Right next to the Opera House is the Royal Botanic Garden, full of fascinating plants and birds.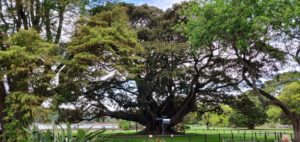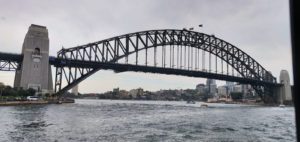 Another spectacular visit is to Sydney's Harbour Bridge, again with a fascinating history. Here I did the night walk and it was fantastic to see the Opera House all lit up and of course the lights of Sydney. We were told by our tour guide that when the bridge was designed there were a total of three cars in Sydney. It was opened in 1932 and now, approximately 150,000 cars (give or take a few 1000) cross the bridge every day. There are eight lanes for cars, 0ne pedestrian-only footway, a cycleway and two rail tracks.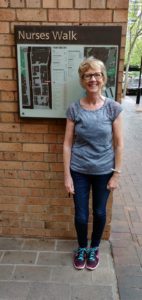 There are lots of things to see in and around the bridge area: 'The Rock' with it's very old history and the Ferry Wharf, where I was able to get a Ferry to Manly, a beautiful little town with a spectacular beach. Of course the other beach to visit is the famous Bondi Beach, which is just a half hour bus journey from the centre of town.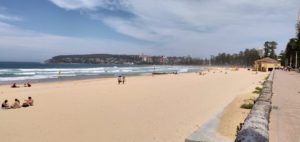 The Anzac War Memorial was unfortunately closed when I was in Sydney. The building was widely cordoned off, but I did eventually see it, on television, when Prince Harry formally opened the new extension to the building. Photographs of the exterior of the Memorial show powerful figures of service men and women which evoke strong emotions. I'm sorry I missed it, but a good reason to visit Sydney again someday.
Next stop Newcastle 🙂