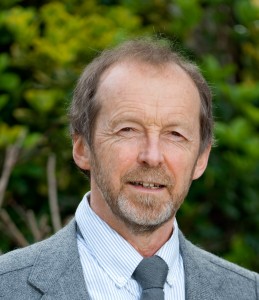 Stephen Sterling is Professor of Sustainability Education at Plymouth University, head of the Centre for Sustainable Futures, and former Senior Advisor to the UK Higher Education Academy on Education for Sustainable Development (ESD), and UNESCO. He has worked as a consultant in environmental and sustainability education in the academic and NGO fields nationally and internationally for over three decades. An HEA National Teaching Fellow, he has been widely recognized for many years as one of the leading voices in sustainability education. As Head of ESD at Plymouth University, he is responsible for embedding sustainability concepts and pedagogy across the curriculum, and supporting associated change.  He is also chair of the university's Sustainability Executive Group, which oversees Plymouth's performance as a sector leader in this field. His research interest is in ecological thinking, systemic change, and learning at individual and institutional scales to help meet the challenge of accelerating the educational response to the sustainability agenda.
https://www.heacademy.ac.uk/person/7533
http://www.plymouth.ac.uk/staff/srsterling
Selected publications
Sterling, S, Blake J, and Goodson, I (2013) 'Transformative Learning for a Sustainable Future: An Exploration of Pedagogies for Change at an Alternative College' Sustainability 2013
Sterling, S (2012) The Future Fit Framework – An introductory guide to teaching and learning for sustainability in HE,  The Higher Education Academy.    https://www.heacademy.ac.uk/node/3573
Sterling, S (2011) 'Transformative learning and sustainability: sketching the conceptual ground', Learning and Teaching in Higher Education, Issue 5, 2010 -11, 17-33
Sterling, S (2011) 'Learning for resilience, or the resilient learner?: towards a necessary reconciliation in a paradigm of sustainable education', in  Krasny,M, Lundholm, C and Plummer, R, (eds) Resilience in Social-Ecological Systems: The Role of Learning and Education, Routledge
Sterling S (2010) 'What is learning for sustainable development?' in Witthaus, M., McCandless,K, and Lambert, R., Tomorrow Today, Tudor Rose/UNESCO, Paris. pp32-33
Sterling, S, Jones, P and Selby, D (eds) (2010) Sustainability Education: perspectives and practice across higher education, Earthscan, London. http://www.routledge.com/books/details/9781844078783/
Sterling, S (2009) 'Towards ecological intelligence' in Stibbe (2009) The Handbook of Sustainability Literacy – Skills for a changing world, Green Books, Dartington. 30-34.
Sterling, S and Thomas, I (2006) Education for Sustainability: the Role of Capabilities in Guiding University Curricula, International Journal of Innovation and Sustainable Development, Inderscience, vol 1, no 4, 349-370.
Sterling, S (2004) 'The Ecological and Environmental Dimensions of the Holistic Curriculum' in Encyclopaedia of Life Support Systems (Theme 6.6.1 'Education for Sustainability'), EOLSS Publishers, UNESCO.
Sterling, S (2004) 'Systemic Thinking', in Tilbury, D and Wortman, D (eds), Engaging People in Sustainability, IUCN, Gland.