I travelled to Newcastle by train. You can use your Opal Card for this. The two-and-a-half -hour train journey cost a ridiculous 8,95A$ (=approx. 5€)! This has to be a really good reason to leave your car behind and take the train!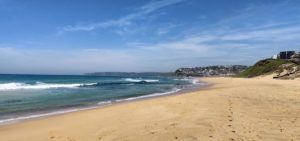 In Newcastle I was lucky to meet up with a family friend. He took me on a 50-minute journey from Newcastle to Nelson Bay and Shoal Bay, pointing out the enormous sand dunes, which you can see for miles and the spots on the way where we might see Kangaroos. Unfortunately we didn't see any. But what we did see really shocked me. Miles and miles of coal heaps waiting to be transported by container ships mainly to India and China. These coal heaps are being constantly sprayed with water to reduce the amount of coal dust in the atmosphere. I saw 4 container ships being loaded with coal in the harbour and that evening we counted thirteen ships waiting out at sea for their time to enter the harbour to load up with coal. Reflecting on this situation highlights again the links between sustainability, climate change and health. The coal mining industry in Newcastle obviously creates a lot of employment and investment. When livelihoods are dependent on work, which is actually damaging people's health and the environment the situation becomes even more complex.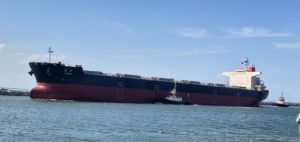 Long-term planning is vital so that the risk of unemployment is minimal. Janet Roden did some research funded by the Climate Action Network Australia looking at exactly this problem in the coal mining area of Muswellbrook and nearby communities, which demonstrates that it is essential to address these problems and plan for the future.
The visit to the 'bays' was really worth it, with stunning views of the Pacific Ocean. We didn't spot any Koalas but we did disturb a Goana, who was having a little nap on the path we were taking!
Thanks again Josh to you and your sisters for your hospitality 🙂